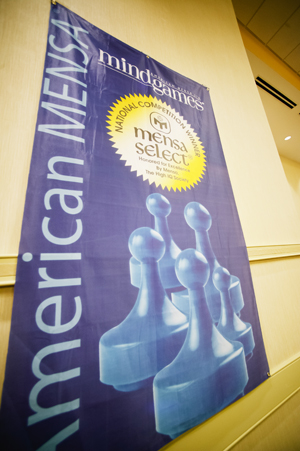 Founded in 1990, American Mensa's Mind Games® has become one of the most respected national games competitions. The four-day board-game-judging marathon draws Mensans and their guests from across the country where they vote on the year's five best new-to-market games to be awarded the coveted Mensa Select® seal.
Each year, hundreds of Mensans and their guests play and critique games released over the previous year and award the coveted Mensa Select seal to the top five vote-getters. Past winners include Scattergories™, Trivial Pursuit™ and Taboo™.
The Mind Games® competition provides an opportunity for game manufacturers to compete in one of the most respected and recognizable national games competitions, while having their games reviewed by some of the nation's most avid game-players — members of American Mensa.
Board games, card games and other types of table and party games are eligible; games may be designed for one or more players. Games are judged on aesthetics, instructions, originality, play appeal and play value. Judges fill out comment cards for each game. After the competition, each manufacturer receives the comment cards, which show the age and gender of players and include their ratings and comments regarding the game.
The competition is not open to games that are incomplete or not yet in production. Video, electronic, computer games or any games that take an inordinately long time to set up and play cannot be accommodated.