Welcome to Mind Games®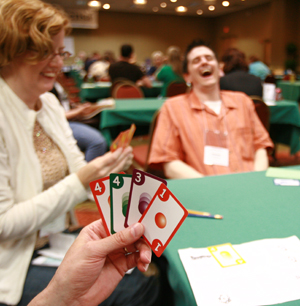 American Mensa's Mind Games is a four-day board-game-judging marathon, during which the year's five best new-to-market games are chosen and awarded the coveted Mensa Select® seal.
Mensa members and their guests evaluate a pre-selected lot of games based upon certain judging criteria and submit honest, constructive comments to be returned to the games' manufacturers. Our information for first-timers will give you an idea about what to expect.
I'm in! What's next?
Mind Games 2023 is scheduled for April 20 - 23 in Columbus, Ohio, at DoubleTree by Hilton Hotel Columbus-Worthington. Player/Judge registration will open Oct. 24, and information about the event hotel is available.
I'd like to submit my game for judging
Smart move! Game manufacturers receive credible research at a fraction of the cost of most focus groups. Our judges are among the most avid game players in the country and rate competitors on aesthetics, instructions, originality, play appeal and play value. After the competition, game manufacturers receive detailed feedback and demographic data from our judges. Learn more about the benefits of entering Mind Games and the entry requirements.
I'd like to test for American Mensa membership!
Held in conjunction with Mind Games, a testing session is scheduled for 1 p.m. on April 19, the Wednesday before the event begins. The test session will be at a meeting room-to-be-determined at the DoubleTree by Hilton Columbus-Worthington. Learn more about Learn more and sign up.